King Charles III is getting the royal treatment when it comes to coins.
The British monarch, who assumed the throne when his mother, Queen Elizabeth II, died in September, is now commemorated in coins issued by the Royal Mint, the official maker of UK coins. The fifty pence (50p) coin went into circulation earlier this month, and other coins are being released in the new year.
In a statement on its website, the Royal Mint said, "The King's effigy has been created by renowned British sculptor Martin Jennings and has been personally approved by His Majesty. In keeping with tradition, The King's portrait faces to the left, the opposite direction to Queen Elizabeth II."
But the Royal Mint isn't just about paying homage to, well, royalty. Its newly announced 2023 commemorative set does include a special five pound (£5) coin in celebration of King Charles' 75th birthday, but it also features coins honoring British author J.R.R. Tolkien (of "The Lord of the Rings" and "The Hobbit" fame) and the 100th anniversary of the passenger train known as the Flying Scotsman.
There's even a fifty pence coin in the commemorative set to mark the 75th anniversary of the British National Health Service.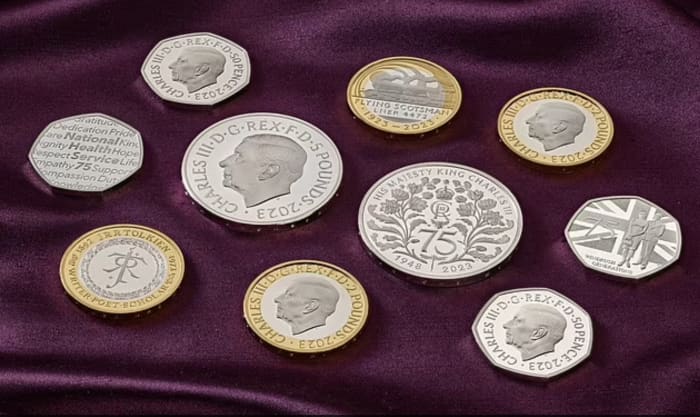 Still, while numismatic aficionados and royal watchers may be particularly interested in the various King Charles coins, it's worth noting that Queen Elizabeth maintains her presence — at least in coin form.
The Royal Mint says there are still 27 billion coins circulating in the U.K. that bear the effigy of the late monarch. "These will be replaced over time as they become damaged or worn," the Royal Mint said.