The 2023 Rivian R1S is an all-electric luxury midsize SUV with seating for up to seven and a maximum range of 321 miles. Pricing starts at $78,000.
This is where personal transport is heading. Electric SUVs. The driving public is in love with SUVs and their raised driving positions, while the future is looking increasingly electric. Tesla
TSLA,
+1.76%
has already shown that a new company can take on the old guard and succeed. Rivian
RIVN,
-1.02%
is forging its own path.
Plus: The 2023 Rivian R1T electric pickup: What it's like to drive, pricing, range and more
The R1S is one of two all-electric vehicles from Rivian so far, the other being the R1T pickup. This SUV launched last year, the truck debuted for 2021. Rivian is based in Irvine, California, with a production facility in Normal, Illinois. The R1S is far from normal, though.
Large electric SUVs are still a rarity, despite Kia's new EV9. And large electric SUVs with serious off-road abilities are even rarer. But that's the Rivian R1S, enhanced with luxury appointments.
Also see: 'There surely will be failures.' As competition builds, some EV startups may fall by the wayside.
2023 Rivian R1S pricing
The 2023 Rivian R1S starts at a manufacturer's suggested retail price of $78,000. A larger battery pack for a 321-mile range costs $6,000. Or the Quad-Motor configuration (unavailable with the larger battery) is an extra $8,000. We hit Rivian's online configurator to add some options and reached $104K. Rivian's factory-to-dealer delivery fee (destination charge) is $1,800.
Rivals include the Tesla Model X (from $100K), the 5-seater BMW iX (from around $87K) and the GMC Hummer EV SUV (from just over $80K). Lucid
LCID,
-16.24%
also has an electric SUV in the pipeline to complement its sleek Air sedan.
Before buying a new Rivian R1S, check the Kelley Blue Book Fair Purchase Price to know what you should be paying.
What's new for 2023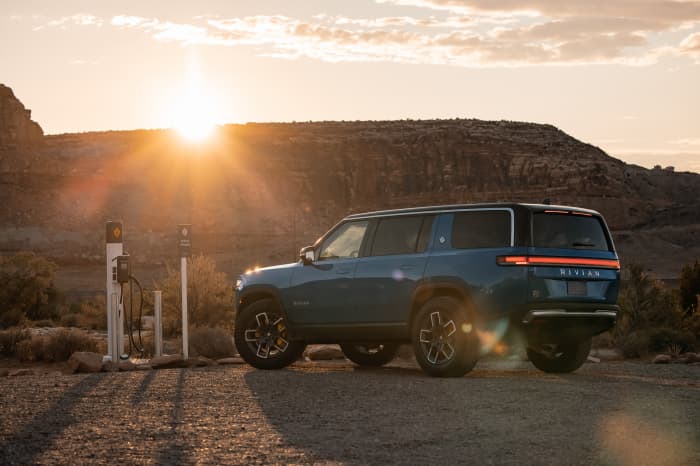 The Dual-Motor variant becomes available after last year's 4-motor Launch Edition.
Other changes are mainly over-the-air updates. Snow and Sand driving modes; a Pet Comfort feature (to keep the cabin at a preset temperature if Fido has to be left in the vehicle for a while); Camp mode gives the R1S the ability to level its suspension if it's parked on a slope and someone plans to sleep in it; Kneel and Roomy modes adjust ride heights and steering wheel/driver's seat positions for easy entries and exits.
Range, charging, and performance
Rivian claims the standard battery in the R1S Dual-Motor is capable of providing "260-plus" miles of travel with a full battery before needing a charge. We'll assume that it's closer to 261 miles than 270.
The Environmental Protection Agency has calculated estimates for the Quad-Motor of 289 miles with 20-inch wheels, 321 miles with 21-inch wheels, and 303 miles with 22-inch wheels. A Max Pack is expected for dual-motor versions that could bring 390 miles of range.
For comparison, the Model X can run for 333 miles. The iX is capable of 324 miles. And the Hummer EV SUV is expected to cover 300 miles.
A DC fast charger can supply 140 miles of range in 20 minutes. That's relatively quick. Rivian is planning to establish its own network of chargers, but the R1S can also be replenished by others. A Rivian Wall Charger for home use provides up to 25 miles of range per hour.
The fastest-accelerating Rivian R1S is the Quad-Motor version, capable of blasting from standstill to 60 mph in three seconds, which would be remarkable for sports car, but this is achieved by a 7-seater SUV. The Dual-Motor model is only one second behind.
You might like: Review: The all-new 2023 Lexus RZ luxury electric SUV—range, charging and more
Driving the 2023 Rivian R1S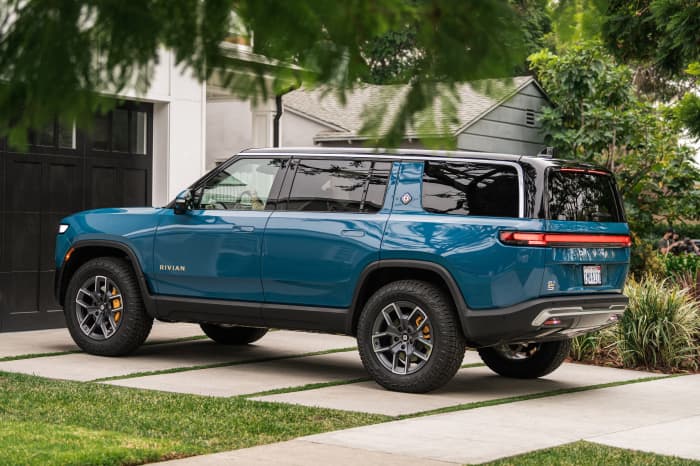 The R1S has an air suspension with adaptive shock absorbers and an electro-hydraulic roll control system that does away with traditional anti-roll bars. The suspension raises and lowers the vehicle up to 5.5 inches as needed, while accomplishing a supple yet well-controlled ride.
In Comfort mode, the R1S is just that, comfortable. And smooth stops are easy. The brake pedal, which actuates only the hydraulic braking system, feels completely normal.
Outward vision is good. And even at freeway speeds, the cabin stays hushed — barely any road noise or wind noise. This electric SUV is quick, comfortable, stable, and fun.
This is also true in the dirt, where the R1S can creep at slow speeds in a one-pedal mode without having to left-foot brake, which is what skilled off-road drivers often do in tricky conditions. The R1S can also wade through 3 feet of water.
Well-considered interior
Vegan leather is a contradiction in terms. What Rivian means is convincing simulated leather whose means of production hasn't harmed any animal directly. Along with real wood, this material adds a significant touch of class to the cabin.
The minimal dashboard plays host to a 15.6-infotainment touchscreen, which isn't the largest among electric vehicles but big enough, and it helps keep the amount of switchgear to a minimum. This is complemented by a 12.3-inch digital driver information display.
Almost everyone has an Apple iPhone these days, or maybe an Android device. So not installing Apple
AAPL,
+1.60%
CarPlay/Android Auto phone integration into the R1S seems like a mistake.
The R1S is a 3-row SUV, unusual for something with an electric drivetrain — for the time being, at least. So the 2023 R1S can take up to seven occupants. Second-row seats fold in a 60/40 fashion and the third row splits 50/50. Each of those rows folds flat (power operated) to create a large area for cargo or perhaps for intrepid types to set up a bed.
Legroom in those back rows isn't especially impressive, although OK for younger family members. Cargo space is great, however, starting at 17.7 cubic feet (enough for four golf bags) behind the third row. There's also a large storage area under the hood.
Check out: The 2023 Nissan Ariya: Nissan's first all-electric SUV is roomy with a bold look and impressive range
Practical exterior
None of that "SUV Coupe" malarkey here. The 2023 Rivian R1S has a practical, squared-off shape similar to the Range Rover or GMC Hummer EV SUV. The twist comes in the form of those unusual headlights. Although less visible to the casual observer, the R1S also has a huge panoramic glass roof.
Subtle, but incredibly useful for off-roading, is the way the R1S has been designed to incorporate advantageous approach and departure angles, plus a maximum ground clearance of 14.9 inches.
Our favorite features and tech
Heated/ventilated front seats
Standard equipment, which is not always the case with luxury SUVs.
Heated steering wheel
This is also standard. Great to have when you're setting out on those harsh winter mornings.
Underbody protection
For those who want to exploit the considerable off-roading abilities of the R1S, this optional package will be money well spent.
3-person roof tent
One of Rivian's optional accessories. Considering how good the R1S is at going into the wild, things like this (accompanied by a ladder) make more adventures possible.
All Purpose driving mode
This is the mode most R1S drivers will be using the majority of the time. The suspension adjusts itself to suit the conditions, lowering the ride height for optimum aerodynamics on the freeway.
Conserve driving mode
For those times when there might be a bit of range anxiety, this Conserve mode engages just front-wheel drive and keeps the ride height low.
Engine and transmission
Every 2023 Rivian R1S has all-wheel drive as standard. It just depends on how many electric motors there are.
The Dual-Motor version has, predictably, two motors. That's one per axle. Combined output is 600 horsepower and 600 lb-ft of torque.
In similar news, the Quad-Motor model has a motor for each wheel, enabling an extremely precise version of torque vectoring — where varying amounts of power drives individual wheels to optimize grip and traction. Total muscle here is a massive 835 horsepower and 908 lb-ft of torque.
Notice that energy consumption differs according to wheel size, with 21-inch wheels being the most efficient. Logic might suggest that 20-inch wheels would be better, but those are the ones wearing all-terrain tires for optimum off-road performance and therefore have a higher rolling resistance.
The maximum tow rating for the R1S is 7,700 pounds.
Dual electric motors
600 combined horsepower
600 lb-ft of combined torque
EPA city/highway fuel economy: TBA
EPA-estimated range: TBA
Quad electric motors
835 combined horsepower
908 lb-ft of torque
EPA city/highway fuel economy (large battery): 69/60 MPGe (20-inch wheels), 75/66 MPGe (21-inch wheels), 73/63 MPGe (22-inch wheels)
EPA-estimated range (large battery): 289 miles (20-inch wheels), 321 miles (21-inch wheels), 303 miles (22-inch wheels)
More Rivian R1S range and efficiency information is available on the EPA's website.
5-year/60,000-mile warranty
Rivian's new-vehicle warranty is for five years or 60,000 miles, whichever happens first. Batteries and drivetrains are covered for eight years or 175,000 miles. This is impressive coverage.
Cox Automotive, parent company of Kelley Blue Book, is a minority investor in Rivian.
This story originally ran on KBB.com. KBB's car review  methodology.