Technical analyst Tom DeMark, whose indicators are designed for anticipating turning points and overextended price moves, says it's looking good again for both euro and bitcoin.
DeMark, who called the day of the euro/dollar low, told MarketWatch in January that the euro would pull back after a 15% rally. Now that it has, the euro looks set to resume a rally that should take the shared currency to $1.20 and beyond.
The euro
EURUSD,
+0.64%
was trading higher on Monday morning, up 0.4% to $1.0682. See DeMark's analysis on his website Symbolik.com
He said bitcoin
BTCUSD,
+3.90%
is in a similar spot and in a position to rally again. Bitcoin rallied 3% to $22,128.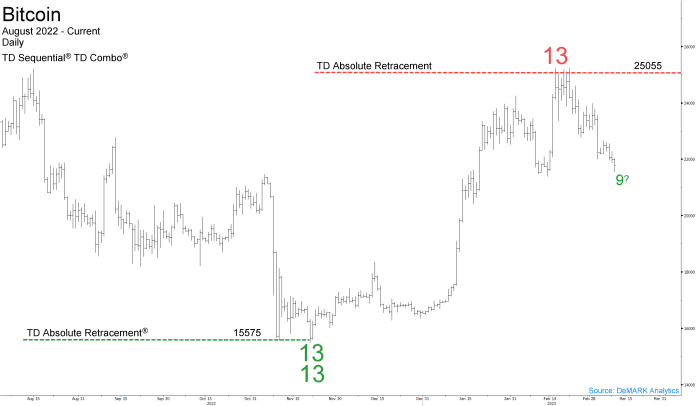 DeMark, the founder and CEO of DeMark Analytics, focuses on the number of days — which don't have to be consecutive — that there was a close lower than the high or low price from two days ago. Subject to various conditions, when the countdown reaches 13, a buy signal is triggered. (The opposite is the case on the way up.)
Nine-day trends equate often times with interim bottoms depending upon where they occur within a trend. If those are muted, they often provide the breath which refreshes and renew the prior trend. In bitcoin's case, that was long-term upside off the 13 bottoms recorded on Nov. 21, when both time and price ($15575) intersected and resulted in downside trend exhaustion.
This also applies to the euro '9" which was not configured ideally at its low and required a little additional finesse and modest weakness last Wednesday.