Looks like Nintendo has another hit on its hands. 
The long-awaited "Breath of the Wild" sequel, "The Legend of Zelda: Tears of the Kingdom," sold more than 10 million units worldwide in the first three days following its May 12 release, Nintendo
NTDOY,
+0.32%
announced Wednesday. 
This makes it not only the fastest-selling game in the almost 40-year history of the "Zelda" action-adventure videogame series, but also the fastest-selling Nintendo game ever in the Americas, with 4 million units sold in that territory, alone. It's also the fastest-selling Nintendo Switch game to date.
The game was also populating many Twitter trends over its launch weekend, with players (this author included) sharing screenshots of their exploits across the virtual kingdom of Hyrule. New gameplay mechanics include skydiving, crafting weapons and shields, as well as building motorized vehicles, which have fired up many gamers' imaginations.
"Many players are returning to Hyrule with all its new mysteries and possibilities, and with the record-breaking launch of 'The Legend of Zelda: Tears of the Kingdom' for Nintendo Switch, we can't wait to see what they'll create in the game and the stories they'll share next," said Devon Pritchard, Nintendo of America's executive vice president of sales, marketing and communications, in a statement. 
"We're grateful for all of our fans who've shown their passion for 'The Legend of Zelda' over the years," he added, "and these sales numbers for the latest installment continue to show the strong momentum for both the franchise and Nintendo Switch this year."
In One Chart: 'The Super Mario Bros. Movie' smashes records, tops $1 billion at the box office
The new game's predecessor, "The Legend of Zelda: Breath of the Wild," has sold more than 30 million copies since its release almost six years ago, including 29 million units on the Nintendo Switch and 1.70 million on Nintendo's Wii U. So it should come as little surprise that its follow-up, "Tears of the Kingdom" (aka "Breath of the Wild 2" or "TOTK," as many gamers are calling it) has been one of the most hotly anticipated videogames of the year for 2023.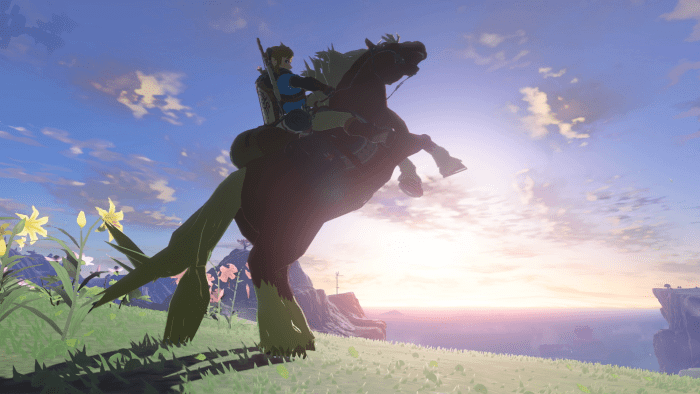 It remains to be seen how "Tears of the Kingdom" will match up to other best-selling titles so far this year, including "Star Wars: Jedi: Survivor" from Electronic Arts
EA,
-0.10%,
the zombie-horror remake "Resident Evil 4 (2023)" from Capcom
CCOEY,
+0.56%,
and the Harry Potter game "Hogwarts Legacy" from Warner Bros. Interactive
WBD,
-0.76%.
Nintendo's stock was up slightly on Wednesday morning, and remains up a little over 4% for the year-to-date. 
The gaming company has been having a good few weeks; its "The Super Mario Bros. Movie" has been a box office smash, as well, earning more than $1 billion worldwide.