An all-new electric vehicle, the 2023 Toyota
TM,
+0.35%
bZ4X SUV has a range of up to 252 miles and is similar in size to the RAV4. Pricing starts at $42,000.
Although the name seems like some homage to a robot in the Star Wars universe, or perhaps someone just rested their elbow on a computer keyboard, there is a meaning behind bZ4X. The bZ aspect stands for "beyond zero" — signifying that there's more to this compact SUV than just no carbon emissions. Toyota has other bZ vehicles in the pipeline, so this functions like Volkswagen's
VWAGY,
+1.91%
ID sub-brand, as in the ID.4 all-electric SUV.
The number 4 relates to the fact that this vehicle is similar in size to the RAV4, and the X denotes that it's a crossover SUV. There's a logic at work here, but Toyota really could have chosen a more user-friendly moniker that still sounded sufficiently techy.
Back to more important matters, the lithium-ion battery rests under the umbrella of an 8-year/100,000-mile warranty — whichever happens first. The bZ4X is capable of over-the-air updates. Owners can set things like cabin temperature and heated/cooled seats (in the Limited trim) remotely by using an app on their smartphone and controlling the charging schedule.
2023 Toyota bZ4X pricing
An XLE version of the 2023 bZ4X with front-wheel drive has a Manufacturer's Suggested Retail Price of $42,000, plus a destination charge of $1,215. The Limited trim starts at $46,700. Add another $2,080 to both figures for the second electric motor that facilitates all-wheel drive.
A major option for both trims is premium paint. The Limited trim also offers a 9-speaker JBL sound system and heated rear seats.
A possible federal tax credit of $7,500 may apply to leasing or buying a new bZ4X electric vehicle, and various states have their own additional incentives. You can factor a home charging setup into the final cost, and Toyota offers a year of free and unlimited charging at EVgo
EVGO,
-10.73%
stations.
Pricing of the 2023 bZ4X is in line with rivals like the Kia EV6, Volkswagen ID.4, Subaru
FUJHY,
-1.70%
Solterra, and Chevrolet Bolt EUV, while being slightly less than the Hyundai Ioniq 5 and the Ford
F,
+1.22%
Mustang Mach-E.
Before buying a new Toyota bZ4X, check the KBB.com Fair Purchase Price to see what others in your area paid for theirs. It's too early to talk about resale values, but Toyota vehicles tend to be near or at the top of their respective categories.
Driving the 2023 Toyota bZ4X
One-pedal driving is becoming a welcome trait in electric vehicles. The level of brake regeneration slows the car down whenever the driver lifts off the accelerator. Sometimes it will bring the vehicle to a complete stop. The 2023 bZ4X doesn't do that.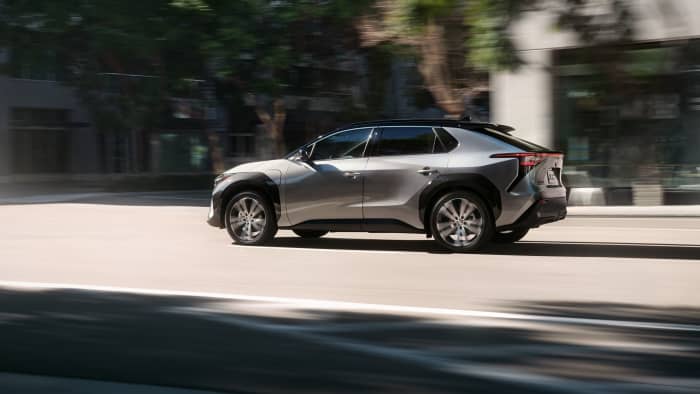 However, although the brakes take a little getting used to if coming directly from a regular combustion-powered vehicle, they should soon become second nature.
Another special electric vehicle attribute is the availability of maximum torque when accelerating away from standstill. There's a bit of that with the new bZ4X SUV.
With 124 lb-ft of torque at each end, the all-wheel-drive version can sprint from zero to 60 mph in 6.5 seconds. That's breezy rather than blistering. But stop-light drag races are not usually a big consideration for buyers of electric vehicles.
Range, however, is. The best the 2023 bZ4X can manage is 252 miles. That's not bad, slightly better than the Chevrolet Bolt EUV. But the Kia EV6, Hyundai Ioniq 5, VW ID.4, and Ford Mustang Mach-E are all capable of going farther.
Also see: The 2023 Hyundai Ioniq 5: This highly-rated futuristic SUV is at the forefront of a fresh wave of electric vehicles
Although the 2023 bZ4X electric SUV is no off-road specialist, all-wheel-drive versions have an X-Mode feature, with settings for Snow/Dirt and Snow/Mud to help cope with slippery conditions, and let the driver concentrate more on steering than anything else. If this X-Mode term sounds familiar, it might be because it's a Subaru innovation. The bZ4X and the new Subaru Solterra electric SUV share a platform.
This platform locates the battery pack under the floor, contributing to a nice low center of gravity which enhances the feelings of agility and stability alike.
It's good to see a lot of standard driver assistance features as well, including adaptive cruise control with a function that helps keep the bZ4X in its lane. Standard blind-spot monitoring is especially welcome because the wide rear pillars hinder rear-three-quarter vision.
Check out:The 2024 Honda Prologue: Honda's new electric SUV is attractive and spacious. When can you get one?
Interior comfort
Like its RAV4 stablemate, the new bZ4X packs plenty of interior space into a compact SUV footprint, enhanced by a wheelbase (the distance between the front and rear axles) longer than the RAV4's: 112.2 inches compared with 105.9.
Front legroom measures 44.8 inches. The RAV4, which is wonderfully roomy, has 41 inches. The steering column has plenty of adjustability for reach. Rear legroom in the bZ4X is 47.7 inches, significantly more than in the RAV4.
The bZ4X's luggage area is 27.7 cubic feet, similar to the Kia EV6 and Hyundai Ioniq 5). When fitted with the optional JBL sound system in the bZ4X, the subwoofer reduces that volume to 25.8 cubic feet.
Up front, the dashboard is covered with a soft-touch fabric. And it hosts a 12.3-inch infotainment display as standard. The cabin is especially airy, thanks to a fixed panoramic glass roof (with a powered shade) that's also part of the deal.
The top Limited trim offers the option of a special heater for the lower extremities of those sitting up front. And every new bZ4X has a heat pump as standard, scavenging thermal energy created by the drivetrain and sending it into the cabin.
Exterior styling
The standard color for the XLE interior is black. Gray is available on the XLE and standard on the Limited. Premium exterior paint choices (at extra cost) include Wind Chill Pearl (white), Supersonic Red, Elemental Silver Metallic, and Heavy Metal (like a gunmetal gray). Buyers of the Limited trim also have the option of a black roof. Couple these color choices with a distinct styling approach, and the 2023 bZ4X electric SUV goes against the usual mainstream Toyota designed-by-committee look.
Most of us are probably familiar with the approximate size of the current-generation Toyota RAV4 compact SUV. The bZ4X is longer by about 3.5 inches, pretty much the same width, two inches higher, but with a fraction less ground clearance.
Favorite features
Hey, Toyota
Luxury German cars have had this kind of thing for several years now, but the 2023 bZ4X comes with a digital assistant summoned by saying, "Hey, Toyota." Then a command given in natural speech — like "lower the cabin temperature by three degrees" — is obeyed.
Digital Key
This comes with the higher Limited trim. It allows owners to share their bZ4X with up to seven others, each able to access and start the car with their smartphones.
Standard features
The most affordable new bZ4X all-electric compact SUV is the XLE with front-wheel drive. It has 18-inch alloy wheels, LED exterior lighting, heated side mirrors, puddle lights, rain-sensing wipers, fixed panoramic glass roof, leather-wrapped steering wheel, cloth/simulated leather seating surfaces, dual-zone automatic climate control, and remote climate/charging functions.
Standard safety features include forward collision warning with automatic emergency braking and pedestrian detection, blind-spot monitoring with rear cross-traffic alert, Safe Exit Assist, front/rear parking sensors with automatic braking, adaptive cruise control with lane-tracing assistance, lane-keeping assistance, and automatic high beams.
The infotainment system has a 12.3-inch touchscreen, wireless Apple
AAPL,
+1.37%
CarPlay/Android Auto smartphone integration, Amazon
AMZN,
+2.29%
Alexa/Google Assistant
GOOGL,
+1.65%
compatibility, wireless charging, and Wi-Fi, four USB-C ports (split evenly between the front and rear), one USB-A port up front, navigation, satellite radio, and six speakers.
Factory options
You can order a new Toyota bZ4X in XLE trim with a heated steering wheel (standard in Limited trim) and heated front seats.
Additional standard equipment in the Limited version includes 20-inch alloy wheels, upgraded LED headlights, hands-free tailgate operation, heated/ventilated front seats, simulated leather seating surfaces, 8-way power-adjustable driver's seat, and a 360-degree camera system.
Among the options for this higher trim are a radiant foot/leg front heater, heated rear seats, and a 9-speaker/800-watt JBL audio system.
Battery power, charge times, and range
Front-wheel-drive (FWD) versions of the new bZ4X have a single electric motor generating 201 horsepower and 196 lb-ft of torque. In all-wheel-drive (AWD) versions, you get a second electric motor for a total of 214 horsepower (split evenly between the front and rear axles) and 124 lb-ft of torque emanating from each motor.
In both models, energy gets supplied by a lithium-ion battery pack. The range (total miles covered on a single charge) varies according to trim and the number of driven wheels. The top Limited AWD model achieves up to 222 miles, while the entry-level XLE FWD has the greatest range of up to 252 miles.
See: Those EPA range estimates for electric cars may be unreliable
Using a home charging setup with 240 volts, a front-drive bZ4X takes on about 25 miles of range per hour. A DC fast charger takes the battery from nearly depleted to 80-percent replenished in around 30 minutes. An all-wheel-drive version needs about twice as long. The Kia EV6 and Hyundai Ioniq 5 are both quicker than the bZ4X.
The Environmental Protection Agency has a method for calculating energy consumed over miles traveled, creating a miles-per-gallon equivalent (MPGe) figure. The figures below are EPA estimates.
Single electric motor (FWD)
201 horsepower
196 lb-ft of torque
EPA city/highway fuel economy: 131/107 MPGe (XLE), 125/103 MPGe (Limited)
EPA range: 252 miles (XLE), 242 miles (Limited)
Dual electric motors (AWD)
214 total horsepower
248 lb-ft total torque (124 lb-ft front & 124 lb-ft rear)
EPA city/highway fuel economy: 114/94 MPGe (XLE), 112/92 MPGe (Limited)
EPA range: 228 miles (XLE), 222 miles (Limited)
KBB's car review  methodology.
This story originally ran on KBB.com.